WSQ IT Courses in Singapore
Acquire essential infocomm technology skills through hands-on learning led by certified trainers who are industry experts. Develop robust and practical IT solutions rooted in real-world training, spanning various key IT disciplines.
*Eligible for Singaporeans, PRs, and Long Term Visitors Pass+ holders
Thank you for registering your interest!
Submit the form below and our program consultants will get back to you shortly.
"*" indicates required fields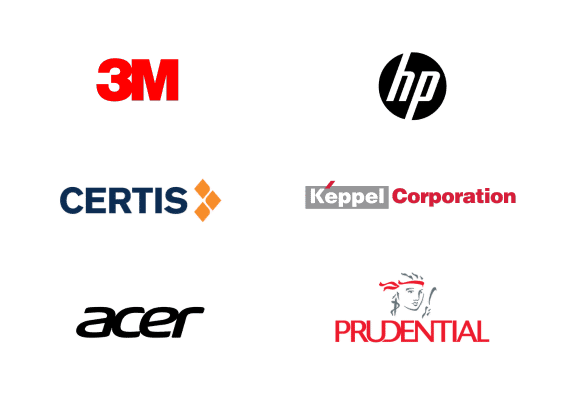 IT Courses Designed for Job Seekers, Professionals and Business Owners
Our training courses are customised to meet the needs of both professionals seeking career growth, and businesses aiming to enhance their workforce.
If you're looking to kickstart your career in IT, this SkillsFuture Career Transition Programme (SCTP) is just for you. In this programme, you will be able to:
Develop your digital marketing portfolio
Build connections with fellow professionals
Secure a job in digital marketing
Work on real-world projects through freelancing
SkillsFuture Career Transition Programme (SCTP)
WSQ Certificate in Infocomm Technology – Infrastructure and Operations
Taught by Industry Experts
Embark on a learning journey with our interactive, hands-on modular courses, and gain job-ready IT skills.
Introduction to Information Technology (IT) Course
Gain a fundamental understanding of IT in just 1 day, exploring key industry trends and job roles in Singapore's growing IT sector, bridging theory and practical insights for a strong IT foundation.
Understanding Computer Hardware & Peripherals Course
Uncover the inner workings of computers through this IT Clinic, exploring essential hardware and peripherals, and gaining practical skills for PC building and upgrading.
Operating Systems and Desktop Support Course
Master operating systems and desktop support, including virtualised environments and industry best practices, for career advancement and IT expertise.
Network Fundamentals and Troubleshooting Course
Acquire mastery in network fundamentals, hands-on design, and advanced troubleshooting techniques, setting the stage for a successful and thriving career in network management and IT troubleshooting, all within this course.
Cybersecurity Essentials Course
Learn the essential components of cybersecurity, including its core principles and best practices, gaining the expertise to navigate the dynamic landscape of cybersecurity, recognize and thwart prevalent security threats, and assume professional roles and responsibilities effectively.
IT Troubleshooting and Problem Solving Course
Master the art of quick and effective IT troubleshooting across hardware, software, networks, applications, and security domains through systematic approaches in this comprehensive course.
IT Service Management and Help Desk Operations Course
Gain expertise in IT service management frameworks, emphasize the role of ITIL, master help desk operations, and excel in incident management, all while working within service-level agreements, through this comprehensive course designed to prepare you for real-world IT challenges.
IT Clinics (PC/Laptop Maintenance) Course
Gain hands-on expertise in PC/Laptop Maintenance: Troubleshoot, repair, and protect your system confidently, saving time and money on minor issues. 
@ASK Training offers a comprehensive and industry-leading education experience that sets us apart from the competition. With SkillsFuture Career Transition Programme and specialised IT courses, we provide our graduates with the resources and support they need to succeed in their career.
Accredited Certification
Earn recognised certifications by Singapore's Workforce Skills Qualifications (WSQ). Our courses offer a credible pathway to professional growth in the field of infocomm technology.
Learn from Industry Veterans
Our training courses are taught by seasoned experts in their respective fields, who bring years of practical experience to add to your learning journey.
Immersive Learning and Up-to-date Curriculum
Upskill with up-to-date courses to keep up with the fast-changing industry and gain latest industry insights. Dive into hands-on immersive learning experiences that are applicable to real-world scenarios.
Hear from some of our graduate trainees
"Wide scope of coverage from Hardware to Software and finally on security and backup."
"Knowledgeable and helpful in providing answers to certain issues that I faced when it comes to fixing or maintaining a laptop or PC."
"System Maintenance as it is the part that most of us tend to overlook and never learn. It also will allow us to continuously use our PCs or Laptops with minimum or no distribution."
Have Questions?
Speak to our programme consultants and have them answered!
"*" indicates required fields
Start Your IT Career Today!