Upskill and Advance Your Career
Train and get placed into a job of your preferred industry.
ASK Training is a SkillsFuture Singapore appointed CET Centre. Our courses are eligible for up to 95% SkillsFuture Funding.
*Eligible for Singaporeans, PRs, and Long Term Visitors Pass+ holders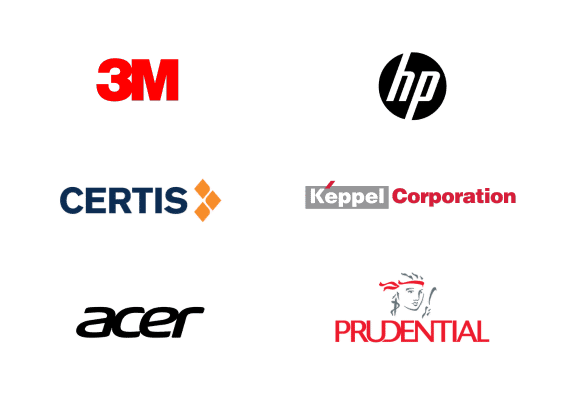 Browse All Courses and Programmes
Learn from industry experts and excel in your profession.
Digital Marketing Courses
Level up your digital marketing knowledge, led by industry experts and get real-world, practical skills to stay ahead of the rapidly evolving digital marketing landscape. Our comprehensive range of courses covers everything from the fundamentals of digital marketing to advanced digital marketing strategies that drive real results.
Discover the power of Microsoft Office through our hands-on courses designed to enhance your skills and efficiency. Whether you're a beginner or seeking advanced expertise, our tailored modules will equip you to effectively navigate the full spectrum of Office tools.
Management & Leadership Courses
Begin a transformative experience that will empower you to become an exceptional leader. Whether you want to learn conflict management or apply three kingdom leadership strategies, our extensive courses are designed to equip you with the skills, strategies, and insights needed to navigate challenges and confidently lead.
Personal Development Courses
Embark on a journey of self-discovery and growth through our empowering personal development courses. Our wide variety of modules ranges from building financial knowledge to managing stress, all carefully crafted to guide you towards bettering your innate skills.
Learn to nurture your creativity through visual storytelling in our immersive courses tailored for both aspiring and seasoned creatives. Our comprehensive modules will empower and equip you with the capabilities to capture moments that create lasting impact.
Enrol into digital marketing full qualification programmes and graduate with job-ready skills.
Programmes are eligible for up to 95% SkillsFuture Funding.
SkillsFuture Career Transition Programme (SCTP)
Transition into a dynamic and thriving career in digital marketing with this specially curated Digital Marketing SkillsFuture Career Transition Programme (SCTP) pathway. Dive into the various pillars of digital marketing and gain hands-on experience through real-world projects.
Build real-world experience with hands-on projects
Job placement services and freelance projects
Get expert guidance from industry professionals
Connect with experts in the field
Advanced Certificate in Digital Marketing
Why Learn From Us?
ASK Training is a SkillsFuture Singapore appointed Continuing Education Training Centre (CETC) and one of the leading ICT training providers in Singapore.
Interactive Learning
At our core, we embrace the idea that learning is a dynamic two-way journey; hence our guiding principle is "learning by doing." We design our training courses to be highly interactive, ensuring your active participation. This approach ensures you are fully engaged and aligns your learning with the practical demands of your job, providing a meaningful and relevant educational experience.
Learn From Seasoned Experts
Accelerate your learning curve by tapping on tested and proven strategies of our trainers, all of whom are seasoned industry practitioners boasting many years of field experience.
Structured Curriculum
At ASK Training, we firmly believe in maximising your learning efficiency. Our approach is rooted in instructional design principles, strategically organising content and activities to create an intuitive and effective learning experience.
Hear from some of our graduate trainees
Puay Suan Sia
"I attended 2 days course on Integrated Digital Marketing Strategy. Trainer Eugene Tan is very knowledgeable and shared many examples and experiences so that it is easier for us to understand. Staff at ASK training ( JTC Summit) are friendly and helpful."
Christy Bai
"Thank u for the ASKTraining which i benefit so much an my tutor Mr David was a excellent teacher an patient understanding an helpful throughout the courses conducted by him ,i strongly recommend him to be my tutor throughout all the other coarses."
Daniel Ariffin
"Trainer was very competent and trained the attendees well. There was a lot of banter going on as there were attendees of different levels with all Q&A attended to professionally , which made the learning process more interesting as compared to simply going by the books. Training syllabus and the manual provided were adequate and well laid out. Training facilities were excellent and the pantry well stocked for the rest breaks."
Browse All Courses and Programmes
Upskill and Advance Your Career Today